December 2020 | SSG Compliance Recap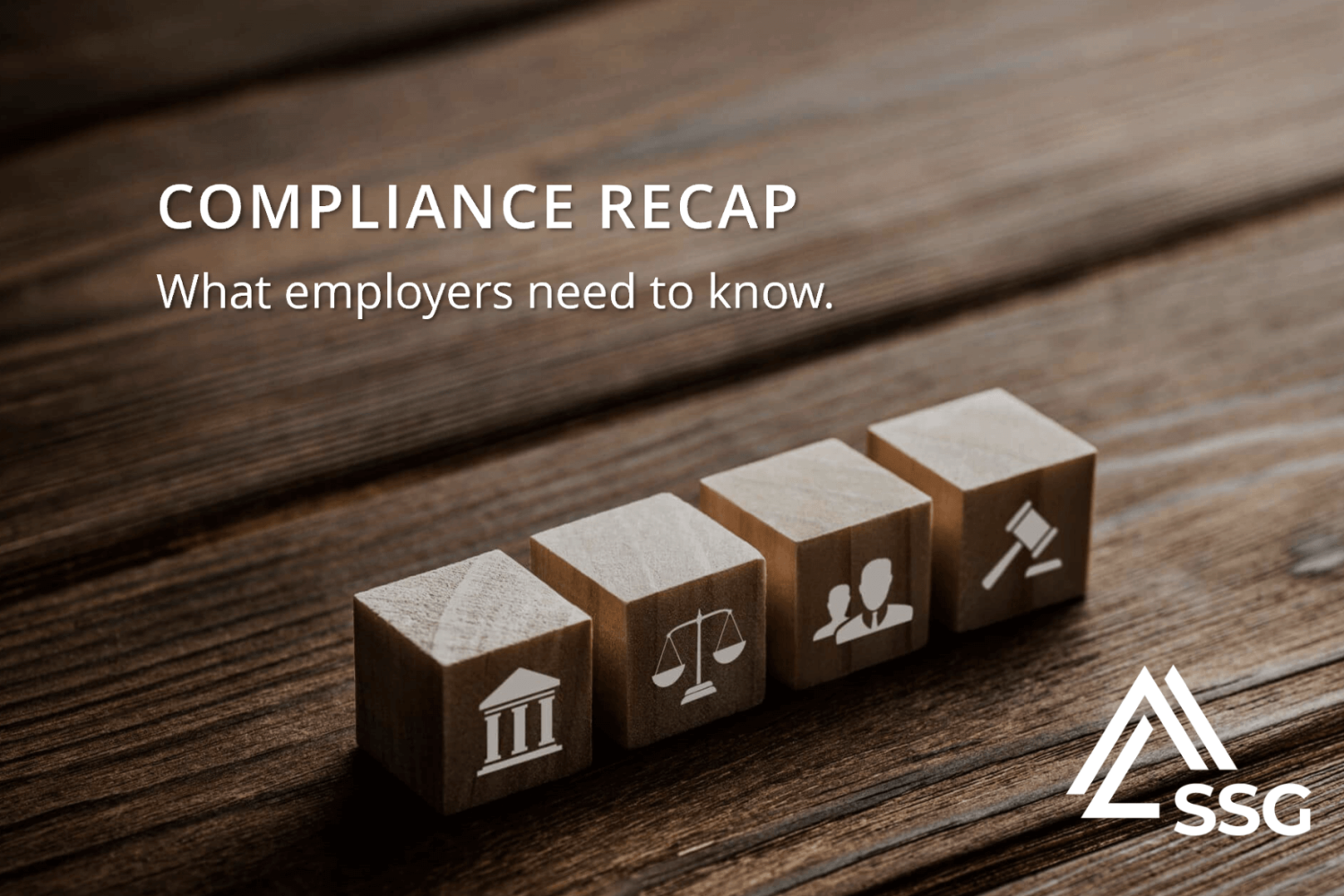 December was a busy month in the employee benefits world.
President Trump signed the Consolidated Appropriations Act, 2021, which includes the No Surprises Act and other group health plan provisions. The Centers for Disease Control Advisory Committee on Immunization Practices (ACIP) issued two interim recommendations for COVID-19 vaccines.
The Department of Health and Humans Services (HHS) released a final rule on grandfathered health plans. The Department of Labor (DOL) and Internal Revenue Service (IRS) released advance information copies of the 2020 Form 5500 Annual Return / Report (including Form 5500-SF and Form 5500-EZ) and related instructions.
DOL released a final rule on proxy voting and shareholders rights under the Employee Retirement Income Security Act of 1974 (ERISA). The HHS Office for Civil Rights (OCR) issued guidance on Health Insurance Portability and Protection Act of 1996 (HIPAA) covered entities disclosing protected health information for public health purposes due to COVID-19 and released a proposed rule modifying the HIPAA Privacy Rule.
The U.S. Supreme Court issued a ruling on the Rutledge v. Pharmaceutical Care Management Association ERISA preemption case. The Equal Employment Opportunity Commission (EEOC) issued guidance on making COVID-19 vaccines mandatory for employees. The IRS released a final rule on qualified transportation fringe benefits. HHS released a final rule on its policies for issuing, modifying, withdrawing, applying guidance, and making guidance available to the public.
Download the full compliance recap to learn more about:
President Trump Signs the Consolidated Appropriations Act, 2021
ACIP Recommends Use of the Pfizer and Moderna Vaccines for the Prevention of COVID-19
HHS Releases Final Rule on Grandfathered Group Health Plans
DOL and IRS Release Advance Copies of Form 5500 for 2020
DOL Releases Final Rule on Proxy Voting and Shareholders Rights
OCR Issues guidance on HIPAA Covered Entities Disclosing PHI for Public Health
Purposes Due to COVID-19
OCR Releases Proposed Rule Modifying the HIPAA Privacy Rule
The Supreme Court Rules on ERISA Preemption Case
EEOC Issues Guidance on Employers Requiring Employees to Receive COVID-19 Vaccines
IRS Releases Final Rule on Qualified Transportation Fringe Benefits
HHS Releases Final Rule on Promoting Regulatory Openness Through Good Guidance
Question of the Month
---
This information is general and provided for educational purposes only by United Benefit Advisors (UBA) for UBA Partner Firm member distribution. It reflects UBA's understanding of the available guidance as of the date shown and is subject to change. It is not intended to provide legal advice. You should not act on this information without consulting legal counsel or other knowledgeable advisors.